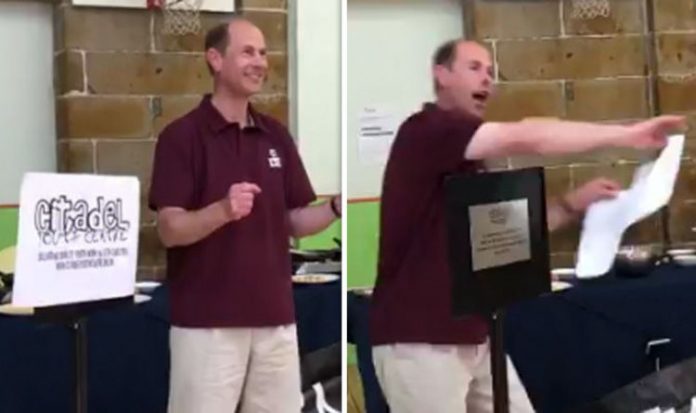 [ad_1]

The Earl of Wessex was visiting The Citadel Youth Centre in the town of Leith, Edinburgh on Tuesday, which offers local children and young people aged 6-21 years old a range of services including youth clubs, groups and individual support.
The Citadel, which has provided community-based youth work since 1980, describes itself as an "experienced voluntary organisation with strong links to local people and local partners".
Prince Edward was yet again centre stage, hilariously unveiling a plaque to commemorate his visit to the youth centre, as well as posing with staff and members for photographs.
Visibly in a jovial mood, he says in the lead up to the unveiling: "This has taken years and years of practice.
"The other thing I want to warn you about before I do this is the unveiling of a plaque is not necessarily the most exciting thing that has happened in your lives
"That probably comes as a little disappointing because you have all been waiting for this particular moment.
"Therefore I just want you to pretend that this is the most exciting thing that has happened.
With a floruish, the Earl then dramatically pulls the cover off the plaque to loud cheers, laughter and applause from those in attendance.
This isn't the first time Prince Edward has put that little bit more effort into a plaque unveiling and is another indication of his lighter side.
Last week, he opened the recently-redeveloped RAF Museum in London, which now includes new innovative exhibition galleries.
The Earl is an Honorary Air Commodore of RAF Waddington, with the opening help mark the RAF's Centenary and Armed Forces Day, which took place on June 30.
He had a chance to see some of the new exhibitions, including 'The Age of Uncertainty – 1982 to present day'.
The display shows the RAF's recent history and looks at how technological change during this period has enabled the RAF to be agile, adaptable and responsive.
But one of the highlights of the day was the unveiling of a plaque in yet another hilarious and dramatic moment.
The Prince said: "One, two, three, go!," before huge cheers erupted from those in attendance.
[ad_2]