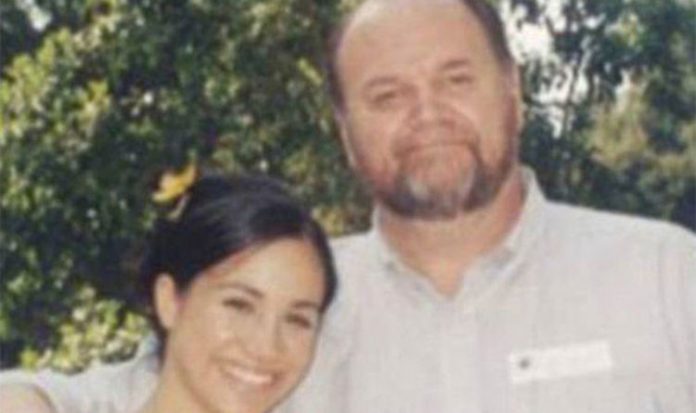 [ad_1]

He told his son-in-law to be he was not photographed being measured for a suit, and instead he was being "measured for a hoodie".
In another sensational interview, the former recluse, 74, claimed that when it emerged he had staged the images, Prince Harry told him: "If you had listened to me this would never have happened."
Mr Markle then said he replied with: "Maybe it would be better for you guys if I was dead then you could pretend to be sad."
The Duchess of Sussex's father said: "Then I hung up."
He told the Mail on Sunday: "I'm not mad at Harry. I'm not mad at Meghan. I love them. I wish them well.
"But as for the rest of it, f*** it. I'm done."
The picture showing Mr Markle being measured for what the whole world believed at the time was a suit for the wedding, captured the hearts of royal fans far and wide.
When it emerged the young man photographed holding the measuring tape around Mr Markle's stomach was paid to take part in the scandal it sent shockwaves across both Britain and Meghan's native US.
Other images staged at the time show the former TV set light director using exercise equipment to get in shape for the Duchess of Sussex's huge Windsor wedding on May 19 as well as reading books on the royal family.
Though when the shocking scandal was uncovered thanks to CCTV footage, Mr Markle said he suffered a heart attack and was admitted to hospital.
The day after, he was pictured lugging a six-pack of beer out of an off licence.
Mr Markle said the cans were not meant for himself.
Mr Markle's disgrace saw him pull out of the wedding and of walking his daughter, 37, down the aisle.
Instead, Prince Charles did the job as millions watched the former Suits actress say her vows with Prince Harry.
Meghan's father has spoken out in damaging newspaper and television interviews a handful of times.
Recently, he claimed Harry's late mother Princess Diana would have "loathed" the way the royal family have apparently treated him.
He said: "They have Meghan treating her father in a way that Harry's mother, Princess Diana, would have loathed.
"That's not what Diana stood for."
not
[ad_2]