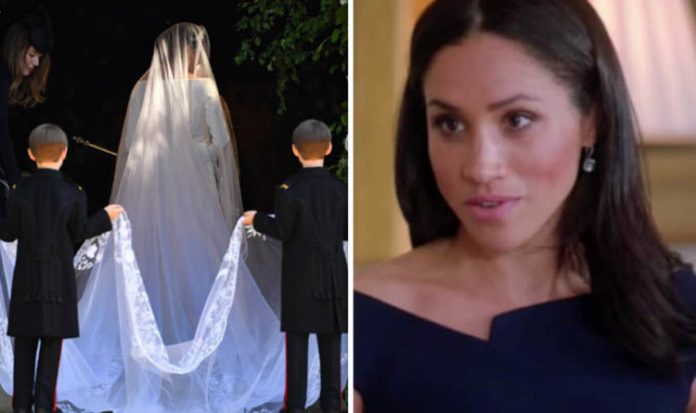 [ad_1]

The Duchess of Sussex stunned her groom when she walked down the aisle of St George's Chapel in Windsor on May 19. 
Meghan, who wore a simple but beautiful Givenchy dress, had worked on her bridal look for months before the wedding. 
And she kept the details featuring on her 16-foot veil hidden from the prince, knowing the revelation on their wedding day would send him "over the moon". 
Speaking about the train of thoughts that led her to the decision of not revealing her veil was featuring the 53 members of the Commonwealth, Meghan said: "I knew that it would be a fun surprise as well for my now husband, who didn't know, and he was really over the moon to find out that I would make this choice for our day together."
Meghan appeared alongside other royals on the ITV documentary Queen of the World, celebrating Queen Elizabeth II's long and vast reign. 
In a stand-up chat, the Duchess dazzled in a blue Roland Mouret dress while being reunited for the first time after her big day with her wedding dress. 
Touching the embroided veil, she said: "53 countries, oh my goodness." 
The long veil features 53 different flowers, each one representing a different nation of the Commonwealth.  
The Duchess of Sussex wanted to mark her official entrance in the Royal Family by paying homage to the the organisation so close to the Queen's heart. 
Meghan explained: "It was important for me, especially now being a part of the royal family, to have all 53 of the Commonwealth countries incorporated." 
The Duchess revealed Prince Harry was not the only member of the family "surprised" by her choice. 
She explained: "I think the other members of the family had a similar reaction and just appreciation for the fact that we understand how important this is for us and the role that we play, and the work that we're gonna continue to do within the Commonwealth countries. 
"So, yeah, it was good news all around, I think, so I hope people liked it as much as I liked helping to create it." 
Meghan believes representing the Commonwealth was especially important for her and the prince as Harry plays an important role in the organisation. 
She said: "With Harry's role as youth ambassador for the Commonwealth was so important for us to have this theme of inclusivity in our wedding"
However, Meghan didn't forget her roots, and asked to have something on the veil reminding her of her home, California. 
She said: "I stuck in a couple of flowers, the California poppy, that were important to me as well personally." 
[ad_2]