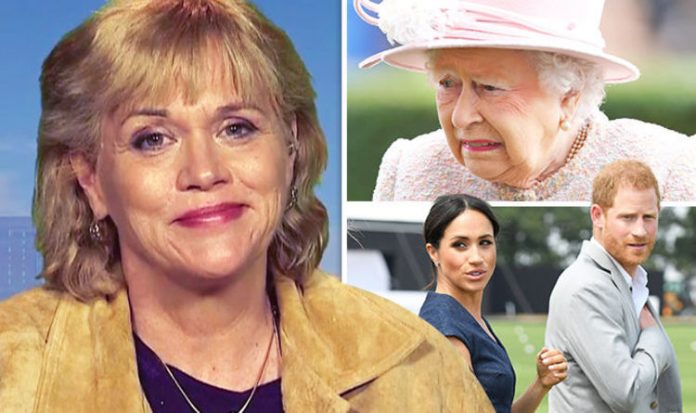 [ad_1]

Samantha Markle, 53, has reputedly not spoken to Meghan, 36, in years but continues to lambast the Duchess in TV interviews.
Only recently, she accused Meghan of being to blame if the siblings' father, Thomas Markle, 73, were to die.
In a tweet, she wrote: "Act like a humanitarian, act like a woman. If our father dies, it's on you Meg'."
Mr Markle said heart problems prevented him from attending his daughter's royal wedding to Prince Harry, 33, at Windsor Castle in May.
Samantha has been accused of "cashing in" on the strained relationship between the pair, stoking fears a CBB spot could create a bigger scandal.
Could Samantha Markle rock the Royal Family by going into CBB?
Royal expert James Brookes warns Samantha's appearance could be "damaging" for the monarchy.
The Royal Central Director of Broadcasting and Communications said it risked being worse than Paul Burrell's current outbursts about Princess Diana's mother on the Australian version of I'm a Celebrity Get Me Out of Here.
He told Express.co.uk: "The difference here with Samantha Markle is she is related to a current Royal Family member and the press office don't have any control over what she could say and do, or blurt out.
"It does have the potential to become quite damaging.
"Samantha's not really on best terms with the Palace already and its reaction to all of this has been to keep quiet as it has done for years before."
The Royal Family is no stranger to scandals, from the abdication of King Edward VIII in 1936 to the divorce of Prince Charles and Princess Diana.
But Mr Brookes says any revelations from Samantha would "need to involve Meghan's current life to match that kind of scandal".
He added: "It could be tittle-tattle, it could be rebellious or defamatory.
"It all depends on what is said as to what response the Palace will take."
The British Monarchy is famous for its tight-lipped approach to public relations disasters.
But US-raised Meghan, an outspoken feminist before her marriage, may feel "apprehensive" as she is no longer allowed to publicly defend herself against any allegations.
How will the public react if Samantha Markle goes into CBB?
One thing to work in the Duchess' favour is that the constant barrage of criticisms coming from Samantha risk losing her credibility with the public.
Samantha, the author of a forthcoming tell-all book on Meghan has justified previous interviews as an attempted to improve her father's image.
But as a CBB housemate "she doesn't really have a leg to stand on, she can't really use that argument any more", according to Mr Brookes.
He added: "The fact that Samantha isn't that close to Meghan nowadays, the fact that Samantha has not spoken to her beggars the question 'well does she really know what is going on in her half sister's life today?
"Is she actually privy to that information or is she making it up?
"A lot of people would say if she is not that close nowadays then really you can't trust what she is saying."
[ad_2]