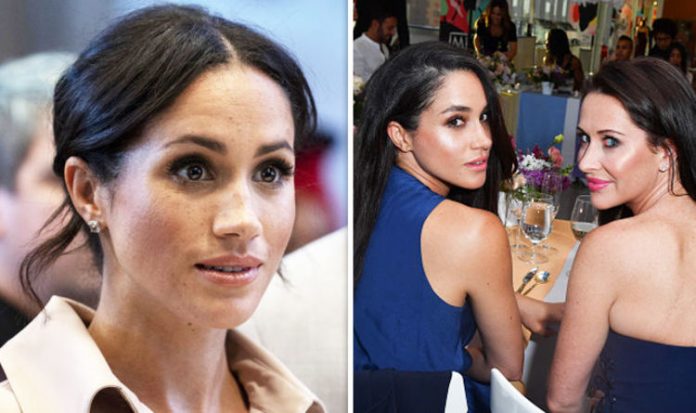 [ad_1]

Since she became a member of the Royal Family on May 19 in a lavish ceremony at Windsor Castle, Meghan has had to deal with a series of inflammatory leaks from her family.
According to a source close to the Duchess, Meghan has consequently been forced to end many friendships.
The Royal insider told People: "Meghan has lost touch with some of her close friends from before the wedding, which has been tough.
"She's finding it hard to know who to trust."
According to the same source, the Duchess has kept in touch with just a handful of people, such as her stylist Jessica Mulroney, her childhood friend Benita Litt, and her makeup artist, Daniel Martin.
Mr Martin told the magazine that "there's a small group" checking in with her to see how she's doing, but "she is still the same person".
The claims come after months of regular attacks from Meghan's family, in particular explosive public comments from her father, Thomas Markle, and her estranged half-sister Samantha.
In her most recent scathing remark, Samantha launched a vicious attack on Meghan over the way she treats her father, accusing her of "fake waves and smiles".
The 53-year-old criticised the Duchess for being "inhumane" to Thomas who had "given her everything".
She wrote on Twitter: "I am not candy coating anything anymore! The Duchess should be humane to our father who has given her everything, and this media c**p can stop!
"He was the one who was always there for her. Fake waves and smiles can stop. The duchess can bow to the daddy.
"Sorry folks, there is no valid or good argument in favour of inhumane treatment on both sides of the family and a best friend of 30 years.
"Snobbery and arrogance are not humanitarian traits. She has an obligation especially to treat our father with kindness."
However, Thomas Markle is believed to have caused the Duchess so much distress, that her mother Doria Rogland had to make an emergency trip to the UK over the summer to comfort her daughter.
Since the Royal wedding, Mr Markle released a series of media interviews in which he criticised the Royal Family and his son-in-law, Prince Harry.
[ad_2]