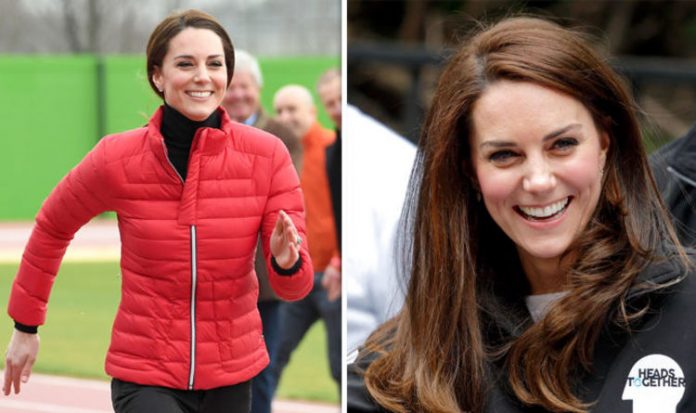 [ad_1]

The Duchess of Cambridge attended the Virgin London Marathon in 2017 when her mental health charity Heads Together, which she started alongside Prince William and Prince Harry, was the event's chosen charity of the year.
But she will never be able to take to the capital's roads for the world-renowned event because of a simple matter of security.
The revelation was made by the Duchess' friend Bryony Gordon during an appearance on Monday's episode of ITV lunchtime programme Loose Women.
The mental health campaigner and journalist recalled the first time she met Kate after being introduced to the mother-of-three to talk about Heads Together at the marathon.
Ms Gordon asked the Duchess if she would be running the gruelling 26.2-mile race in April 2017, to which she answered: "Oh no, security and all that."
The author of successful book Eat, Drink, Run followed this up by teasing: "If I can do the marathon, you can."
The popular event in 2017 saw 40,382 runners take to London's roads – up by 1,242 from 2016 – thus posing a big threat to already strict rules on getting close access to members of the Royal Family
Despite not being able to take part in the marathon that year, she still participated in a 100-metre sprint with her husband Prince William and brother-in-law Prince Harry during a training day for athletes taking part in the event.
She also attended the London Marathon in 2017, cheering on participants and handing out water to them.
But one Middleton who is allowed to take part in such sporting events is her younger sister Pippa, who completed her first marathon in Kenya in 2015.
Speaking about her decision to take on the gruelling 42km course, she told Hello magazine: "I decided that a marathon was a 'life box' that needed ticking and this year was my time – despite it being one of the toughest in the world, with temperatures rising to more than 30ºC, at an altitude of 5,550ft and with the possibility of bumping into lions or rhinos."
Pippa completed the race in three hours 56 minutes and was overcome with emption as she crossed the finish line.
Last week a source revealed the Duke and Duchess of Cambridge have banned iPads from their home because they want their children Prince George, Princess Charlotte and Prince Louis to have an "active imagination" and spend more time outdoors.
The source told US Weekly: "They're very much seen as Mummy and Daddy's toys, not for children."
[ad_2]